ABOUT US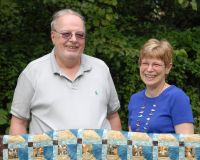 At Sew Patience & Freedom Quilting studio, we come from similiar backgrounds. We met at Peabody Conservatory of Music in Baltimore, MD. Bill changed careers and went into Business. I remained and became an Instrumental Music teacher, producing outstanding orchestras.
I retired in 2004, and needed to do something besides teaching privately. I had taken a quilting class and we were out one day looking at new machines and a sampler quilt in the store window caught my eye. From there I got started on quiting! I took many quilting classes and discovered that sewing machines could do so much more than my workhorse Bernina 930. We updated to a new computer machine and went from there.
Bill retired and soon discovered what I was doing in the sewing room. He started to cut fabrics for my quilts and then he became interested in the process of putting the material together. His first quilt that I taught him to do won a First Place Ribbon at the State Fair. We were both so proud!!!
From there we purchased another sewing machine, and we both could work in the room together. Than in 2012, we got a mid-arm quilting frame and we were completing our own quilts. Creativity abounded and as we went to Quilt Shows, we started to ask questions at all of the longarm booths and found the perfect match for us. We purchased an APQS Freedom in 2014 and it now resides with us.
At this point we decided to start a longarm business and offer our services to customers. We have quilts in stores and businesses, besides customers homes.
We work together, along with our customers, in selecting the design and thread colors for your quilt. Then Bill operates the longarm machine and the magic begins.
If you would like to experience your quilt in our hands, contact us.
We do edge to edge, computer assisted and free motion quilting.
We charge an upfront $50.00 consultation fee for anyone asking us to tell them what designs we would recommend or use on their quilt. This fee will be applied to your order if you decide to have us do the quilting, otherwise the fee shall be deemed earned.
- Sue and Bill Taylor